Events
Veterans Day History November 11, 2022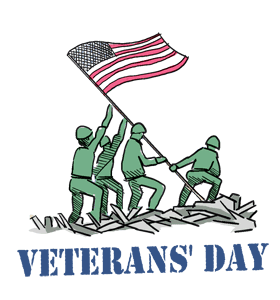 Veterans Day seeks to honor and give thanks to all the men and women who have served and are serving in the US Armed Forces. Ceremonies are held across the country at Veterans Hospitals, cemeteries, and National Monuments. At 11:00 a.m. EST, the Veterans Day National Ceremony is held at Arlington National Cemetery. At this ceremony, the President of the United States, or his assigned ambassador, places a wreath on the Tomb of the Unknown Soldier. Veterans Day is observed on November 11th each year.
World Kindness Day History November 13, 2022
World Kindness Day seeks to spread and promote kindness. On this day, kindness is encouraged worldwide by being generous, considerate, ethical, and friendly.
Thanksgiving Day History November 24, 2022
Thanksgiving Day is a celebration of giving thanks for the harvest and blessings of the past year. It is a day of giving thanks to God for his many blessings and expressing our gratitude to friends and family members. It is celebrated in the United States. Thanksgiving Day dates back to the Reformation Period and is accompanied by prayers, special ceremonies, and feasts. Thanksgiving is observed on the fourth Thursday in November each year.